I like to eat cookies, especially with my morning coffee. I sit alone outside our RV in the day's first light, listen to the birds sing, stare off into my thoughts and eventually pick up my laptop and begin the new-age conversation that has become a near-necessity to so many; checking email, drafting a blog post, scrolling facebook, all while Pandora plays Native American flute music or lively Bluegrass depending on my mood.
I've been out of cookies for several days, a situation that needed to be remedied as soon as possible. This afternoon, ingredients finally obtained, I decided to experiment with a tried-and-true recipe, just for fun. I also decided to take photos as I went along and share the new recipe, including adjustments along the way.
Below are the ingredients I used. Getting them all in the picture was no small feat. It was Devyn who figured out how to do it. Normally I use Extra Virgin Coconut oil, Real Salt (the brand name) and the not-golden flax meal but Fry's Foods doesn't sell them and I wasn't about to wait several days until we made a run to Whole Foods or Trader Joe's, both an hour's drive in opposite directions either to Phoenix of Tuscan.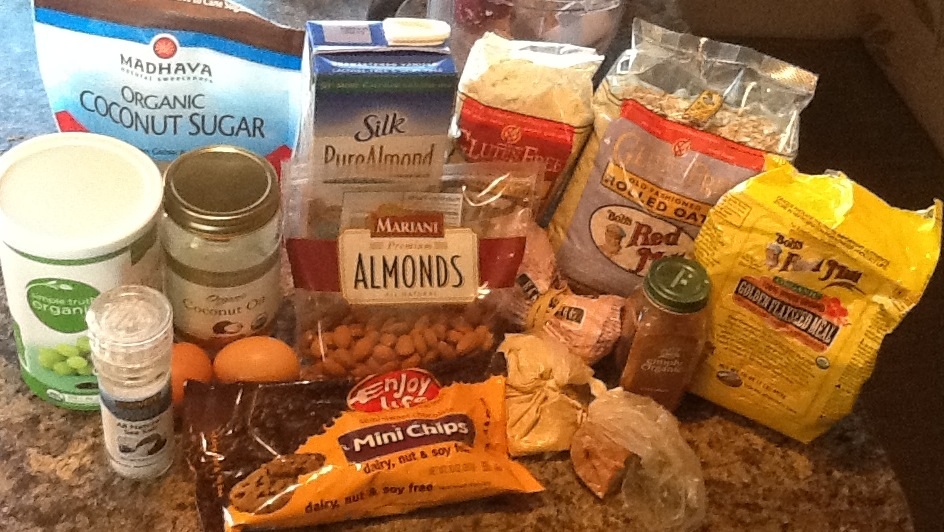 As you read, you'll see I was a bit spacy, but it all worked out. Here's how it went:
I preheated the oven to 350 degrees.
In a large bowl, I combined
2 cups Bob's Red Mill Gluten-Free All-Purpose flour
1 cup Gluten-Free Oats
1 1/2 tsp cinnamon
1/2 tsp nutmeg
1/2 tsp ginger
1/4 tsp sea salt
1/4 tsp baking soda
Then in a second bowl I combined
1 cup coconut oil
1 1/4 cups coconut sugar
Then mixed in
3 Tbsp almond milk
2 eggs
At this point I remembered that I forgot to add the almonds so I made almond-meal in the food processor, answered the phone and promptly dumped
3/4 cup almond-meal in with the wet ingredients.
I add the picture below to show the consistency I opted for for the almond-meal.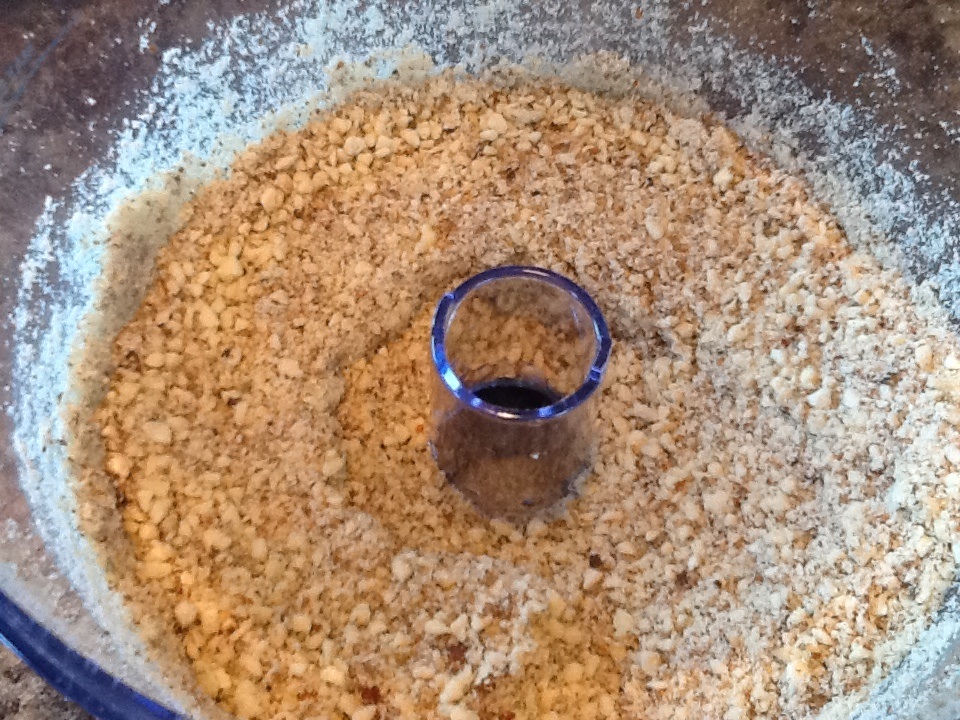 Normally I add the almond-meal to the dry ingredients, but oh well. I did get off the phone before continuing, even to mix it all together. I am not one of these multitasking wiz's.
Pictured below are the two bowls full, ready to be combined, dry into wet. Yes, I'm a bit picture-share happy.
Once combined, I remembered I forgot to add 3 Tbsp flax meal. Once that was done, the base cookie batter was complete.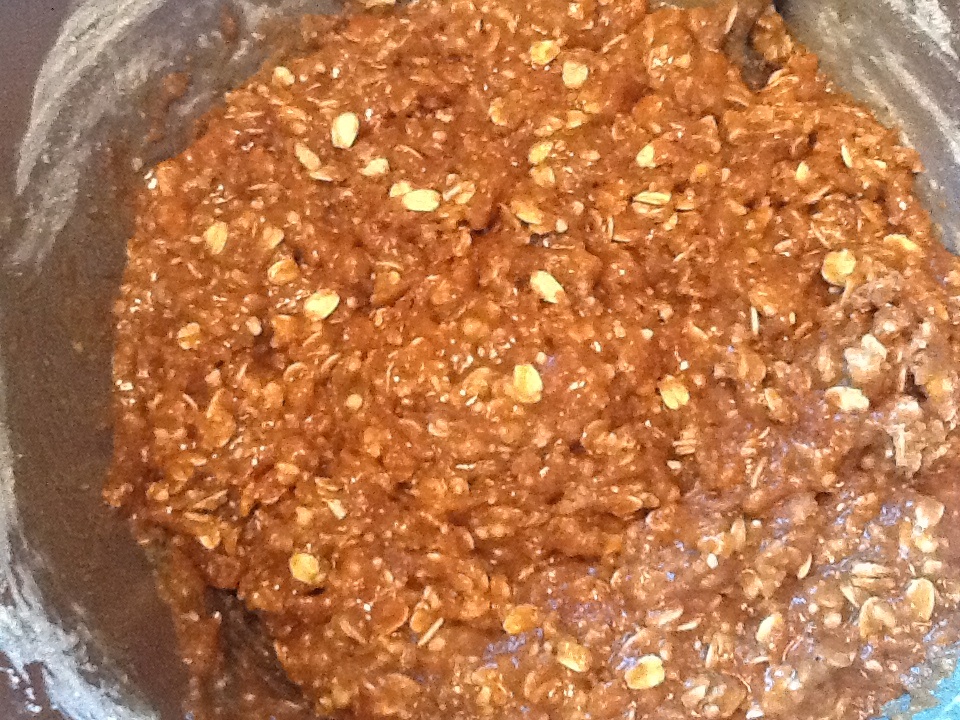 When I'm experimenting with a recipe I always do a small test-batch. At this point, I baked four cookies for several minutes. Here's where it gets tricky. In an RV, I have a small propane oven that is not consistent like a home oven. I suggest if you make these at home, set a timer for 9 minutes, then check to see if the cookies are browning at the edges. If not, add 2 minutes at a time until done. My best guess is that 11 minutes is just right, but since ovens vary, better to be safe.
I asked my older son to taste the first batch and to please be very honest. "Too dry mom" says he, "but otherwise good."
So I added 1/4 cup grapeseed oil and another 3 Tbsp almond milk and baked four more cookies. When these were done, both sons taste tested and gave the thumbs up.
Due to the fact that this is the period of the Baha'i Fast, which lasts from March 2-20 while the sun is up, I wasn't able to test my own cookies. But it turns out the boys are good judges of cookie quality. At 6:30pm I brewed a cup of coffee and enjoyed a few (okay, several) cookies.
I use a tsp-sized ice cream-type scoop, which gives the cookies a nice uniformity. Below I share a before-baking photo so you can see our cute little cookie sheet, the only one that fits into our tiny oven.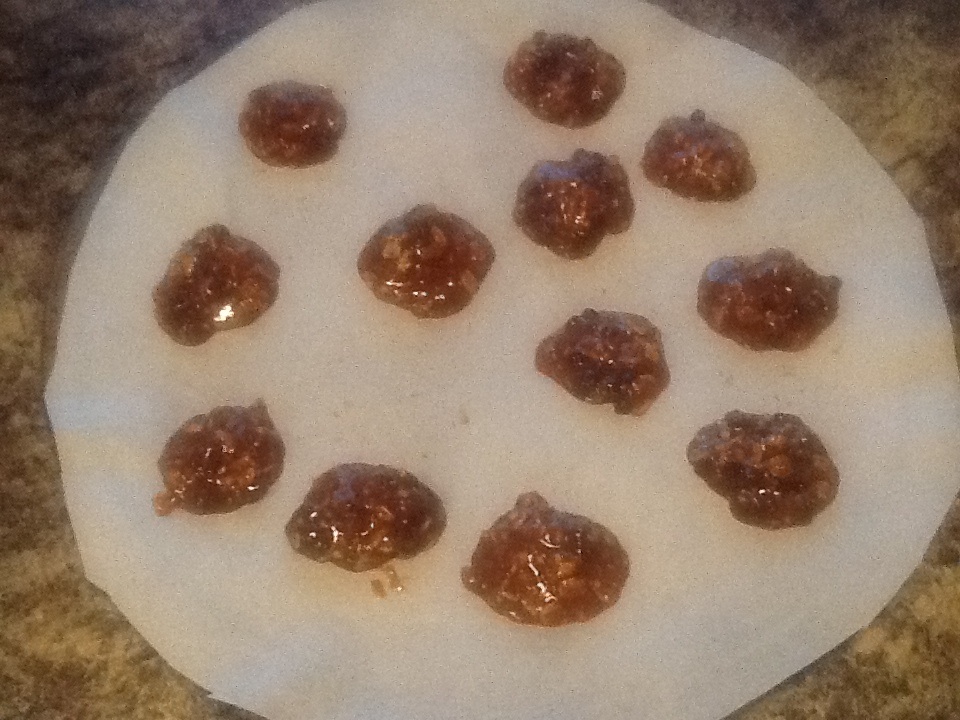 Once the batter was right, I split it into two bowls, about 1/3 in one and 2/3 in the other. I have a friend who doesn't like chocolate chips (???!) so I make her cookies with raisins. I added 2/3 cup raisins to one bowl and 2/3 cup chocolate chips to the other.
So far I've baked two plates-full and the rest of the batter is in the fridge. I will probably be making cookies from it for the next couple days.
And Voila! These are chocolate chip 🙂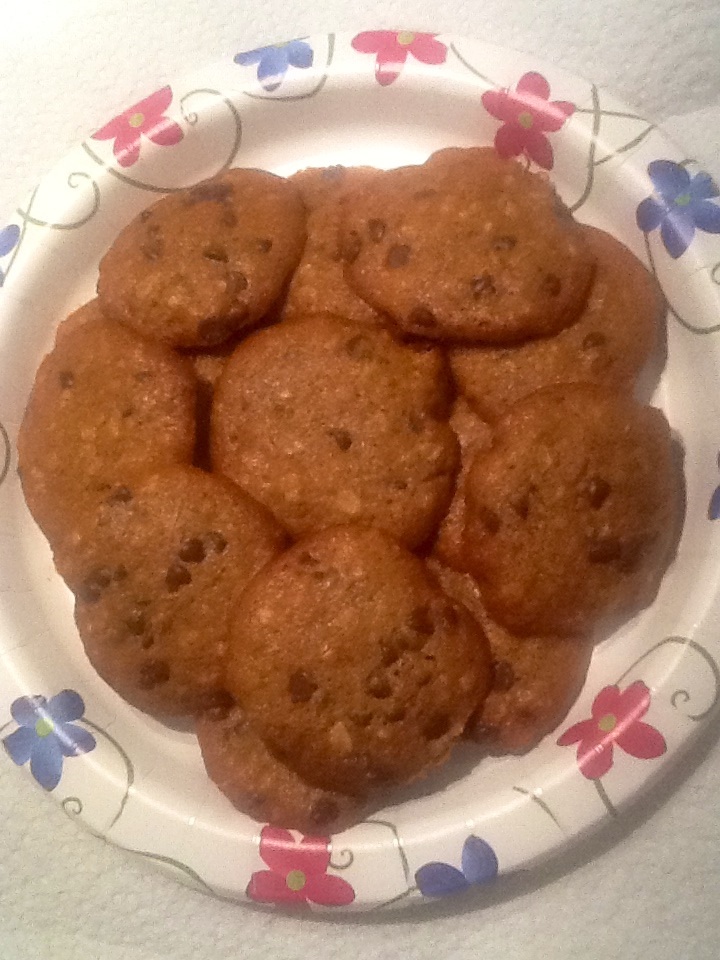 A good variation of this recipe is to leave out the almond meal and the extra oil and milk (that I added after testing first small batch). If you try this variation I recommend replacing the eggs with two "flax eggs."**
**Two "flax eggs" = combine 2 Tbsp. flax meal with 6 Tbsp. rice or almond milk. Barely simmer, either on the stove-top or in the microwave. Remove from heat, whip with fork. Put in fridge for a few minutes. When cool, whip again with fork and add to recipe.